ANTONIO CERVASIO / LAVAGNE
curated by Italo Bergantini and Gaia Conti
October - November 2016

ROOMBERG ROMBERG'S Project Space - Latina (Italy)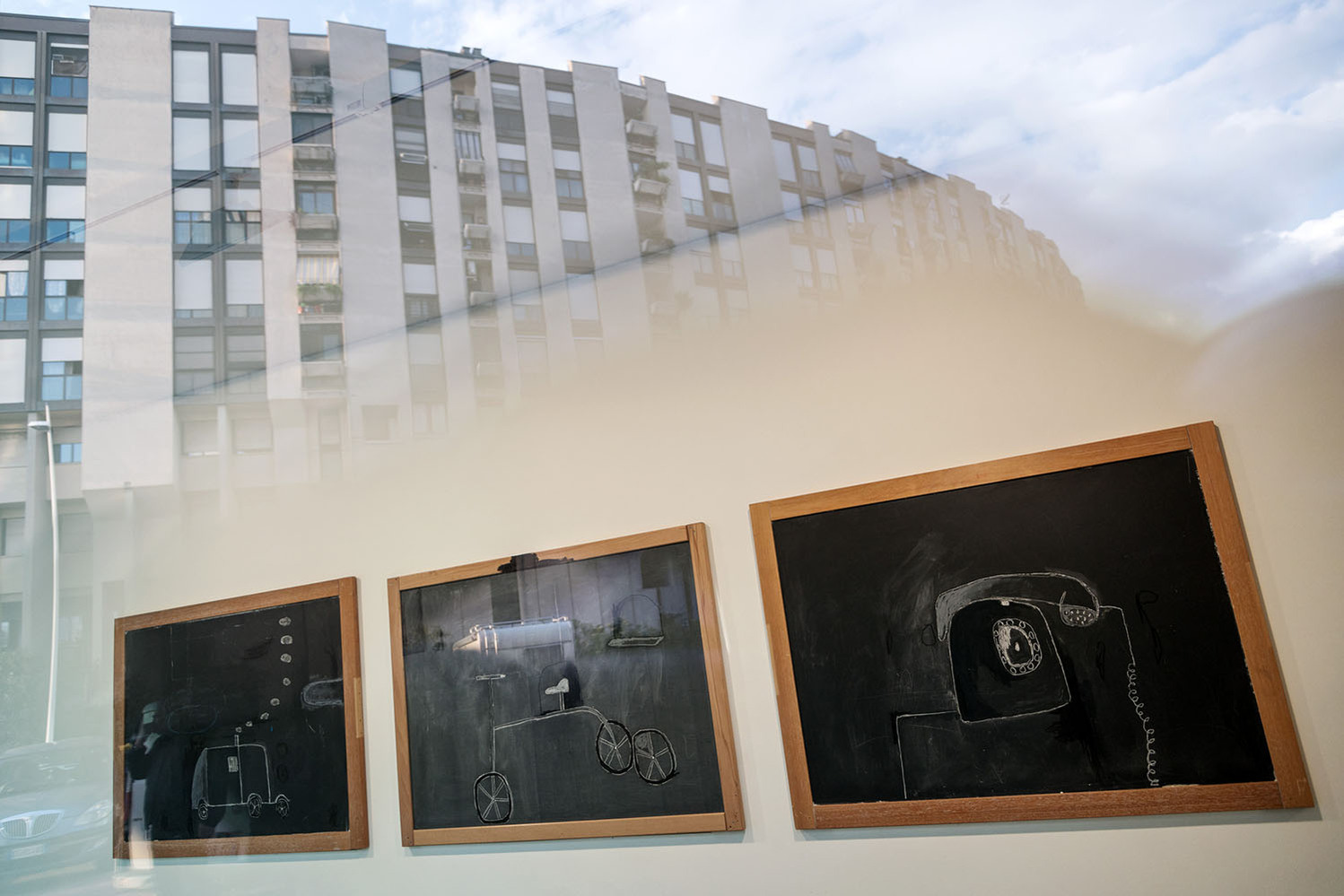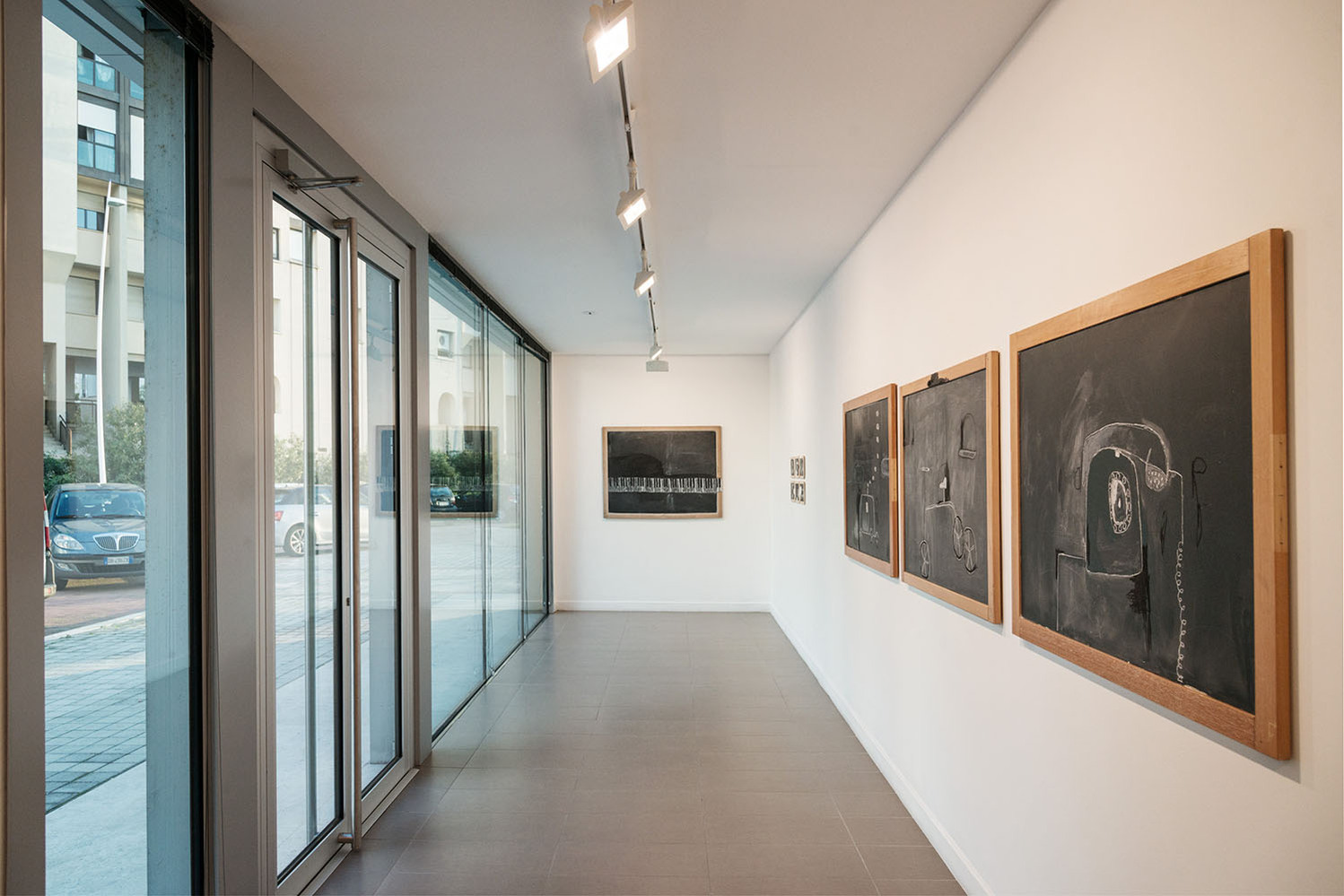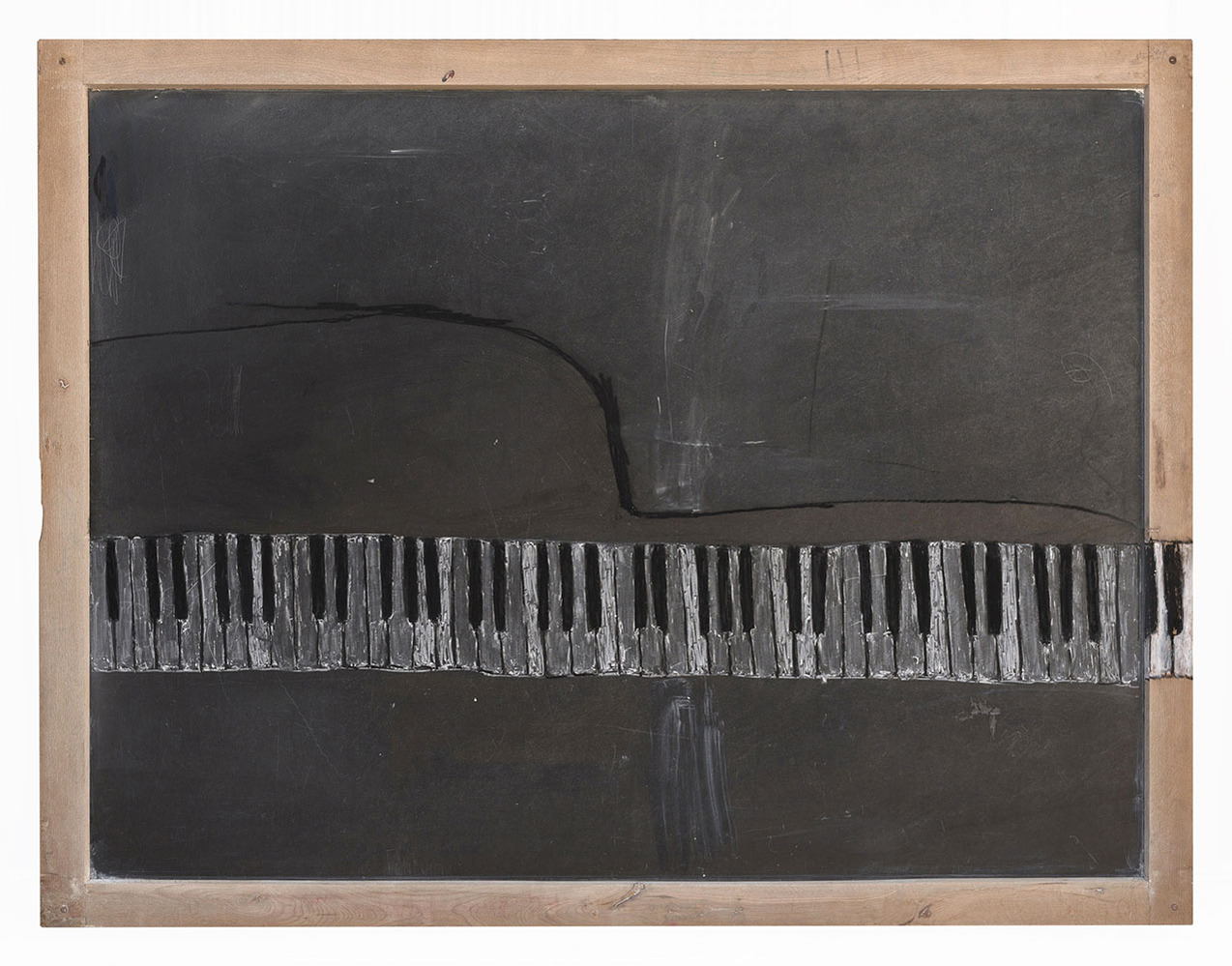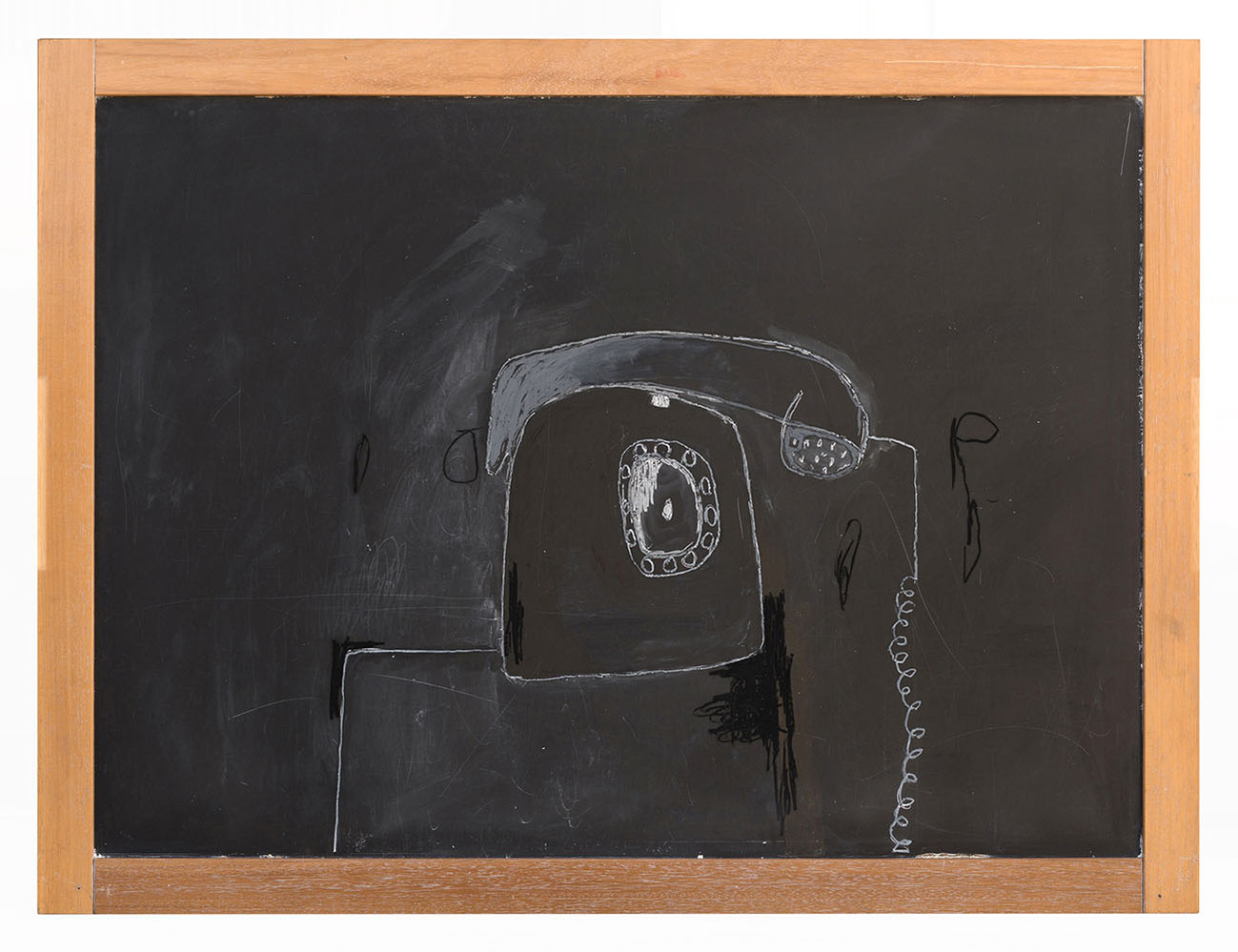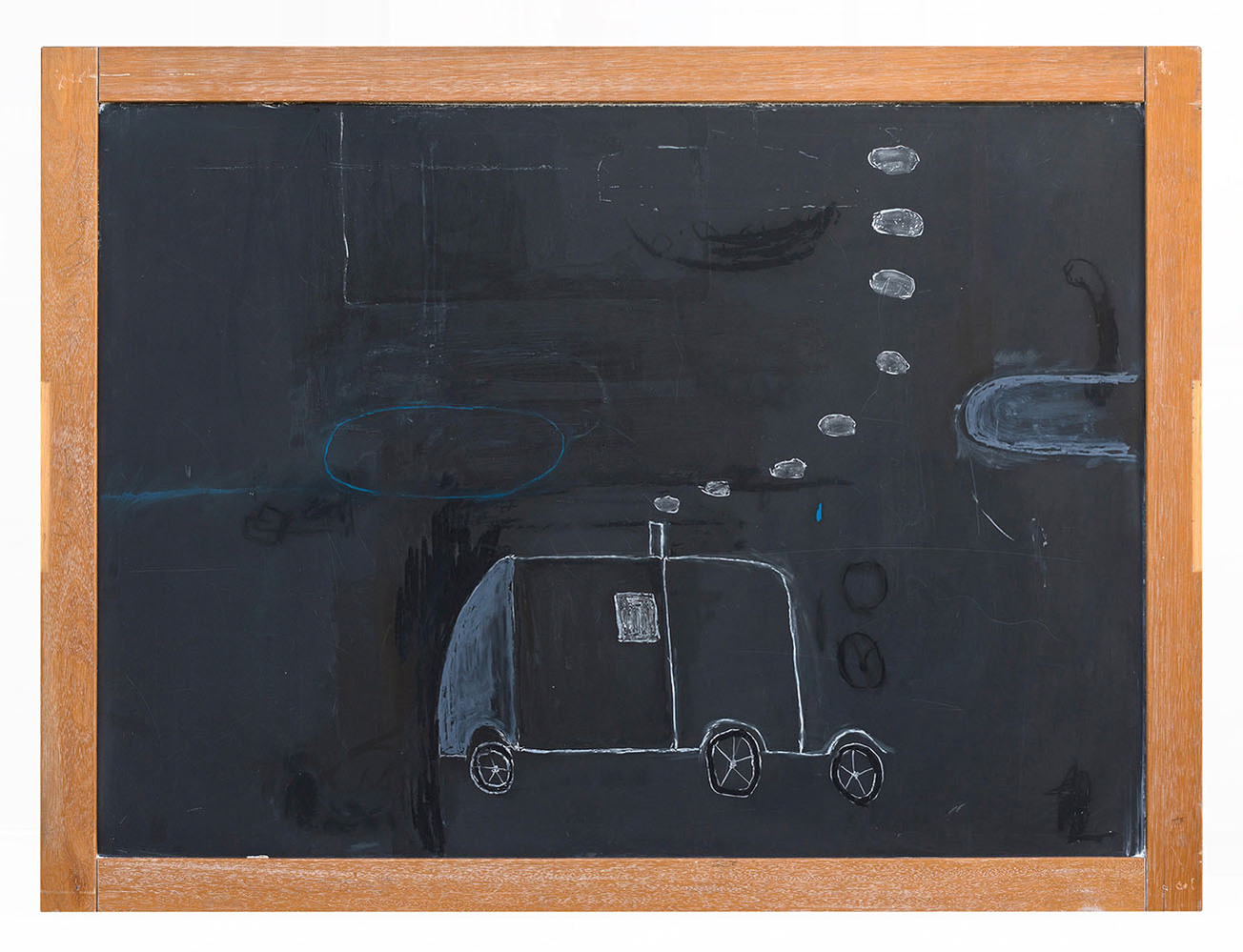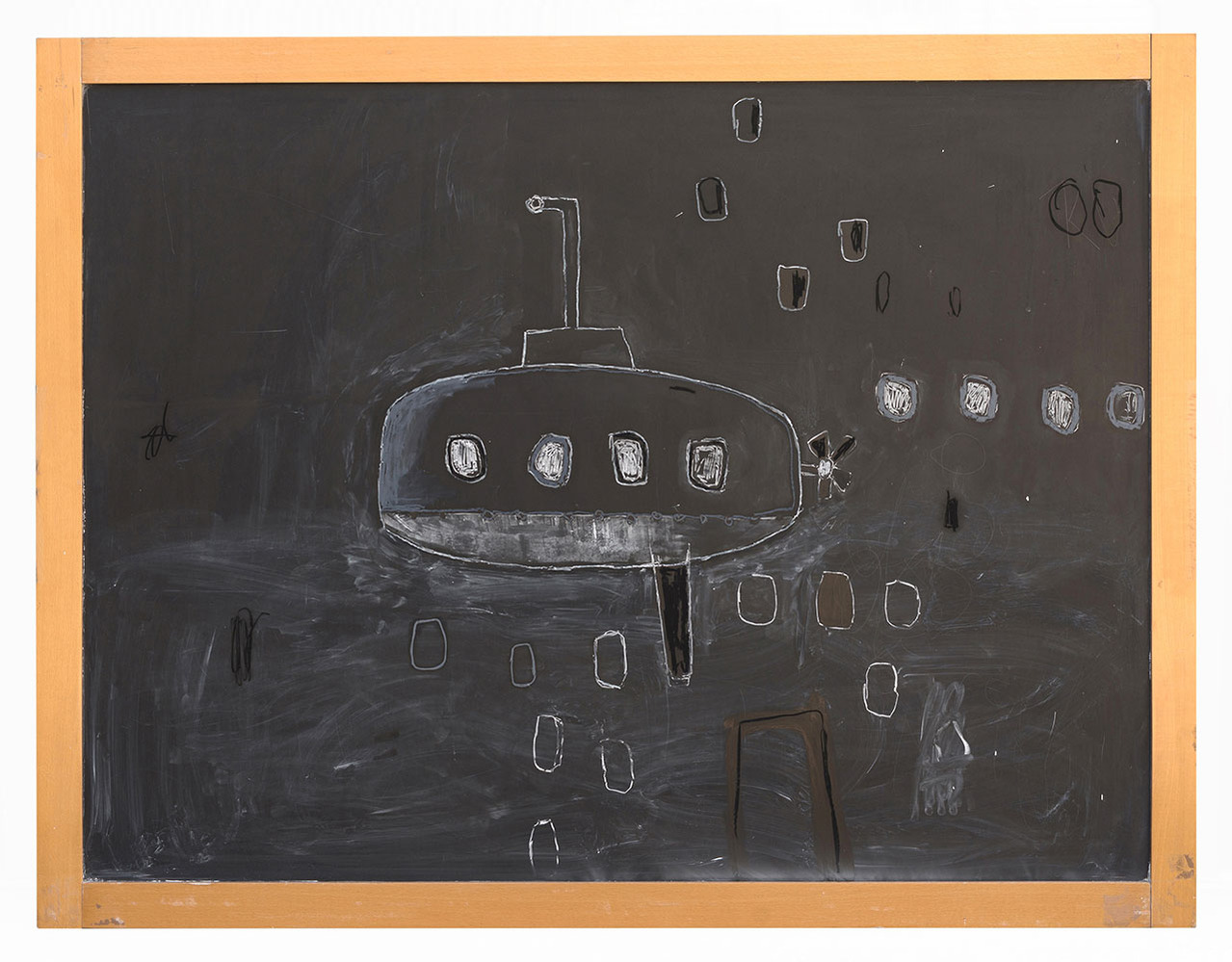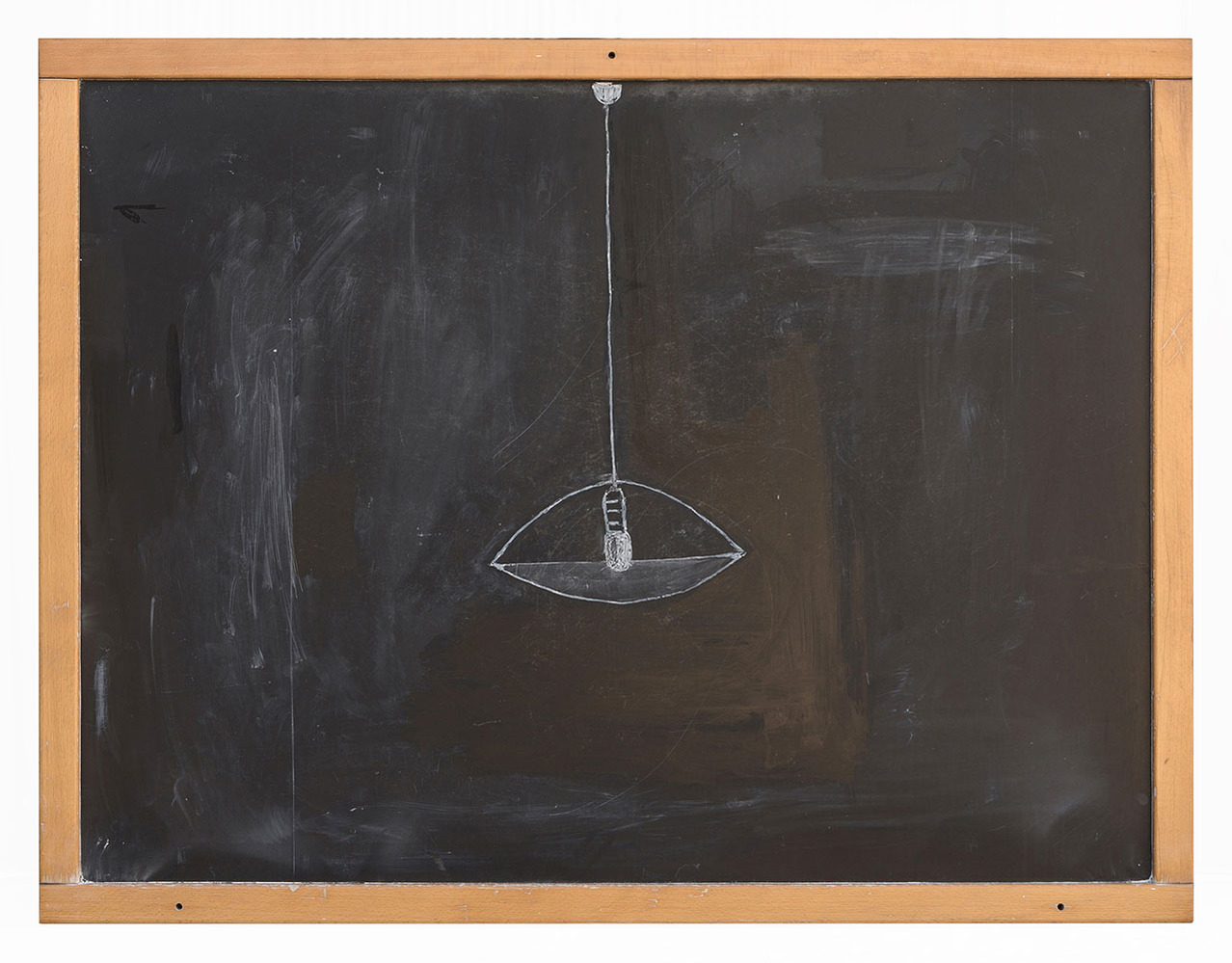 EN_
"The everyday things tell secrets

to whoever is able to look and listen to... "
(From the song "A flower is needed", text by Gianni Rodari)
A white sign, slight and irregular, on a black rectangle. The beginning is where his last show in gallery ended:"True love is like a window illuminated on a dark night ... True love is a lighted calm" - lines by Italian poet Giuseppe Ungaretti together with the video Blackboard n.0. Few lines to trace the silhouettes of a chandelier. From moving image to actual object; the 19 blackboards, 7 large and 12 small, by Antonio Cervasio, on display at Romberg, are visual writing plays, essential traits write with chalk on the slate surface.

Blackboard is the "teacher" of many pupils, is an ever-present nostalgic memory of the years spent in desks in colorful classrooms. Cervasio makes it his own, and as a child with a pencil and paper, outburst with imagination. It emerges a diverse and lively emotional universe, which echoes with a monochromatic melody - we follow with our gaze the endless tunes of "just piano", we hear the tinkling bells of "alarm clock", we follow "wheel" in his slow path and perceive a puff of the chimney in the navigation of "submarine".
A tribute to the objects as they exist in our childhood memories, with uneven rim, asymmetrical and disharmonic; the painting undresses andremains slight emotional transparency.
His trait is recognizable, a childish and authentic calligraphy that draws with a mindful gesture, intentionally hesitant, yet rigorous and minimal. An infantile form of expression and as such loosen by rules and free to wander through space; a fascinating familiar imagery, magical and unreal on hard stones "canvases" as contemporary cave paintings. The seeming easiness in realizing the work, the masterful grasp of space - enslaved, manipulated, overstepped - give him a sensible incisiveness.
This sensitive and charmed cycle of works resonates of the evocative "scribbles" in white on black by the American painter Cy Twombly, of the romantic memory of the Italian lessons by the German artist Joseph Beuys, of the imaginative and histrionic explanations by the Austrian philosopher and educator Rudolf Stainer; they are the symbols' forgotten language by the German philosopher Eric Fromm, they are the In heaven and on earth rhymes by the writer and poet Gianni Rodari, they are the primitive materials of minimalist melodies by the Estonian composer Arvo Pärt. They are small poetry, the objects, the tools living in his hand. They are atomized sentences in which every word is a fragment of the whole, is vital and independent, has its own life.
In nearly 150 years "on duty" the traditional blackboard enabled to tell, structure and clarify the words of the teacher, likewise Antonio Cervasio uses meters of chalk, liters of Attack and kilograms of plaster to evoke, through his peculiar aesthetic realism, the sharp and truthful subjects that are images of a genuine creativity crossed by a smart humor. A journey back in time, a journey in black and white - Blackboards. (Text by Gaia Conti).
IT_
"Le cose di ogni giorno raccontano segreti

a chi le sa guardare ed ascoltare..."
(dalla canzone "Ci vuole un fiore", testo di Gianni Rodari)
Un segno bianco, lieve e incerto, su di un rettangolo nero. Il principio è lì dove finisce la sua precedente personale in galleria: "Il vero amore è come una finestra illuminata in una notte buia…Il vero amore è una quiete accesa" - versi di Giuseppe Ungaretti accompagnavano il video Lavagna n.0. Poche linee a tracciare i contorni di un lampadario. Dall'immagine in movimento all'oggetto concreto e le 19 lavagne, 7 grandi e 12 piccole, di Antonio Cervasio in esposizione alla Romberg, sono dei giochi di scrittura visiva, tratti essenziali vergati col gesso sulla superficie d'ardesia.

Lavagna è "maestra" di tanti scolari, è ricordo nostalgico ma sempre vivo degli anni passati tra i banchi di aule colorate. Cervasio la fa sua e come un bimbo con matita e foglio dà libero sfogo all'immaginazione. Emerge un variegato e vivace universo emozionale che risuona di una melodia monocroma - percorriamo con lo sguardo gli infiniti accordi di "piano solo", sentiamo tintinnare le campanelle di "sveglia", seguiamo "ruota" nel suo incedere lenta e percepiamo lo sbuffo del camino nella navigazione di "sottomarino". Un omaggio agli oggetti come esistono nei nostri ricordi di bimbi, sfrangiati, asimmetrici e disarmonici; la pittura si spoglia e rimane trasparenza emotiva minimale.
Un tratto riconoscibile il suo, una calligrafia genuina e fanciullesca che disegna con gesto consapevole, volutamente incerto, ma rigoroso ed essenziale. Una forma espressiva infantile e come tale svincolata da regole e libera di vagare nello spazio, un immaginario quotidiano ammaliante, magico e irreale su "tele" di dura pietra, come contemporanee pitture rupestri. L'apparente semplicità nella realizzazione, la padronanza magistrale dello spazio - asservito, manipolato, oltrepassato - gli conferiscono una matura incisività.
Sensibile e incantato questo ciclo di lavori echeggia dei suggestivi "scarabocchi" in bianco su nero del pittore americano Cy Twombly, del romantico ricordo delle lezioni perugine dell'artista tedesco Joseph Beuys, delle spiegazioni immaginative ed istrioniche del filosofo e pedagogista austriaco Rudolf Stainer; son il linguaggio dimenticato dei simboli del filosofo tedesco Eric Fromm, son le Filastrocche in cielo e in terra dello scrittore e poeta Gianni Rodari, son i materiali primitivi delle concise melodie del compositore estone Arvo Pärt. Sono piccole poesie, gli oggetti, gli strumenti che vivono nella sua mano. Sono delle frasi atomizzate, in cui ogni parola è un frammento che possiede una sua interezza, è essenziale e indipendente, vive di vita propria.
Nei suoi quasi 150 anni di "servizio" la tradizionale lavagna ha permesso di raccontare, schematizzare e chiarire la parola del maestro, allo stesso modo Antonio Cervasio consuma metri di gessetto, litri di attack e kg di stucco per evocare, attraverso quel suo peculiare realismo estetico, soggetti spigolosi e sinceri immagine di una creatività genuina percorsa da una vena di intelligente comicità. Un viaggio a ritroso nel tempo, un viaggio in bianco e nero - Lavagne. (Testo di Gaia Conti)