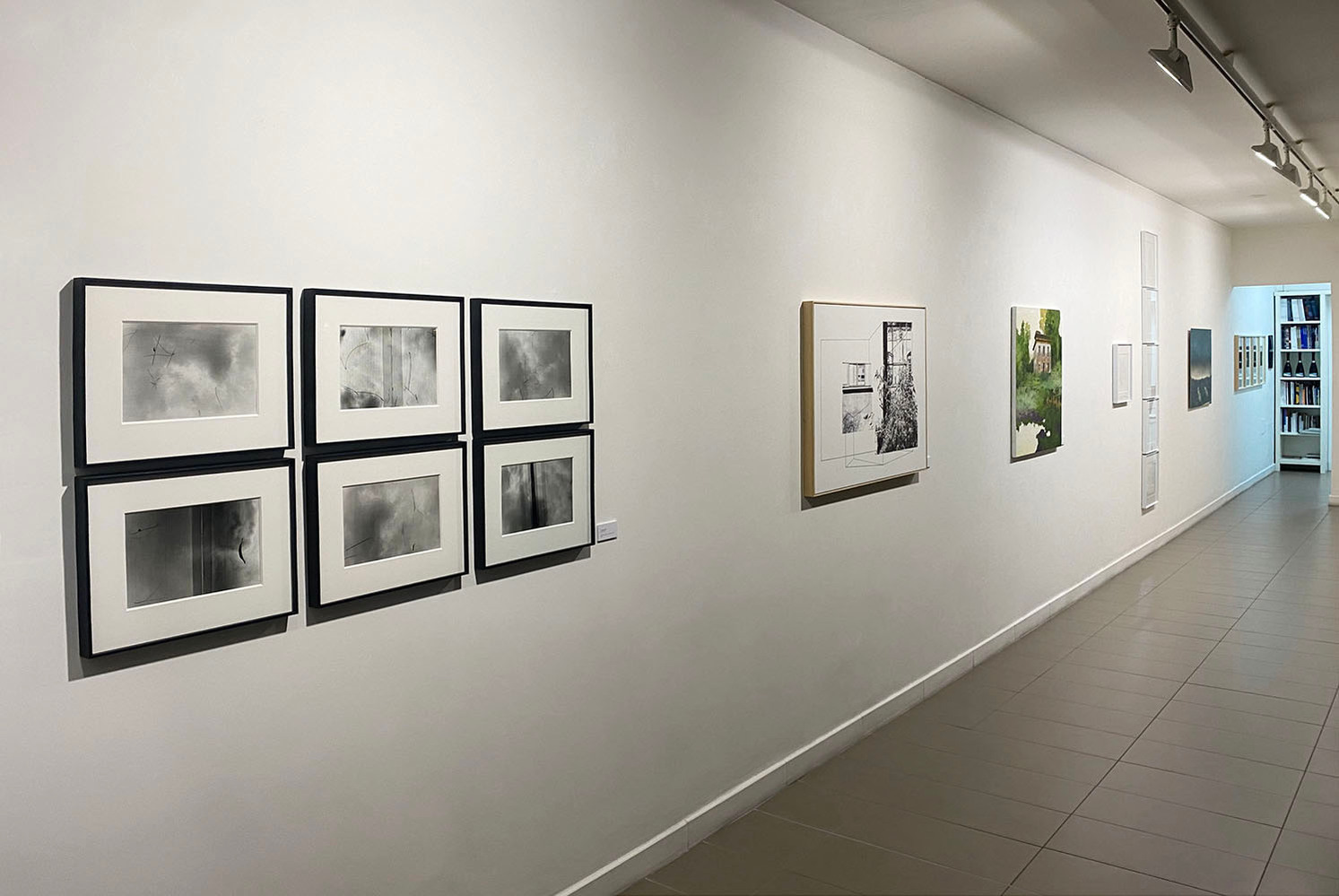 EN_
Romberg Contemporary Art's upcoming season, titled Only Lovers Left Alive, curated by Italo Bergantini and Gianluca Marziani, is set to launch on October 1st with Ready to Listen?! – a question, an exhortation, and a collective exhibition encompassing painting, photography, drawing, and etching.
Guided by the curatorial expertise of Italo Bergantini and Gaia Conti, the incipit resonates profoundly. Nature emerges as a multifaceted loving lover with vulnerability, beauty, potency, and a myriad of elemental forms.
The exhibition unfolds into a realm of receptive listening, an idyllic universe, and a world dominated by nature's embrace. Trees, landscapes, small and large elements, unfurl in a sequence of remarkable evocative potency, echoing deep within our very essence.
Amidst the interplay of black and white, within the interstices of lines, exists a dualism that bridges culture and knowledge. Luca Piovaccari with his grand and nostalgic acetates capturing the layered, contemporary memories of poses etched into reality. Giuseppe Ripa of gracefulness and intangibility, of movement and noise, small matter that moves in an organized and reverse direction; Serse brings us back to the roots and the past, powerful in his graphite landscapes on paper from the 1990s. Giancarlo Dell'Antonia's acute redundant images reverberate like drums during a thunderstorm. Sebastiano Guerrera draws a delicate harmony in a symphony of vibrant leaves and gentle trees. And then, Edoardo Bernardi, the outsider, whose works engage in a visual dance with a vigorous sign, intriguingly intense in the interplay between stroke and support.
Tranquility gracefully meanders across the gallery spaces, only to unleash a deep and powerful roar at the center of the long wall, holding one's breath in suspension, short-circuiting the senses: Carlo Cane's artworks, with a sudden and overwhelming flick of the tail, deliver a vivid slap of color, depicting a wild and predatory nature asserting its regal dominion.
Bringing the journey to a close is the petite "garden" of snapshots by Paolo Romani, featured in the inaugural event. He presents a minimalist perspective where composition and sensation serve as the foundation of communicative expression.
Occasionally, distinguishing the real from the realistic can prove challenging.
When something seizes our attention, it's because it resonates within us, amplifying its frequency in a unique manner – a bond that transcends the barriers of body and mind, unveiling a deep, symbiotic, ancestral relationship between humankind and nature.
Sound reverberates within the core of our beings, molding us and flowing seamlessly through our existence. We are lovers of beauty, of finesse, drawn to nature's robustness, its might, and its delicate intricacies – an affinity rooted in ancient times, gradually eroding in the hustle of our daily lives.
Silence unfurls when we genuinely lend our ears. Ready to listen?!
(Text by Gaia Conti)
#
2023-2024 Season - Exhibition in 5 chapters curated by Italo Bergantini and Gianluca Marziani
SOLO GLI AMANTI SOPRAVVIVONO [ONLY LOVERS LEFT ALIVE]
The wisdom of time that shapes our hard wearing stories inside marsupial spaces.
The wisdom of the space that welcomes those who discipline the shape of elastic time.
Only true lovers survive in the bridge between space and time: and this is what the best works of art do, cellular and spiritual filiations of artists who slip into the cosmic tube of circular time, among looks that are continually renewed and judgments that confront each other in the multiverse of visual art, within the kaleidoscopic mirror of our shared ghosts. In perfect empathy with the romantic vampires of Jim Jarmusch's masterpiece, the artists of our project have always played with time inside the malleable space of the gallery, within the architectural biology of the various Romberg locations: and here they are, today just as tomorrow, embodying the sequentiality of personal passages which become a constant maturation behind each single project.
A season that welcomes extraordinary and non-conformist souls into the house, along iconographic lines that confirm the curatorial codes of Italo Bergantini and Gianluca Marziani. A group of lonely stars, each with its own shape and light, each with its own narrative direction, each in the systemic cycle of a private virtue that becomes a universal theme.
The lovers who survive do not drink blood but space and time. Unlike the couple in the film, the chosen artists feed on duration and relationships, ecstasy and connection, clairvoyance and synthesis… in so doing they let each creation survive beyond space and time, transforming the object of their love - the artwork - into a subject that transmits love to those who know how to look "beyond".
(Text by Gianluca Marziani)
IT_
La nuova stagione della Romberg Arte Contemporanea dal titolo Solo gli amanti sopravvivono, rassegna curata da Italo Bergantini e Gianluca Marziani, apre il 1° ottobre con Pronti all'ascolto?! una domanda, un'esortazione e un'esposizione collettiva.
Pittura, fotografia, disegno, incisione. Con la curatela di Italo Bergantini e Gaia Conti, l'incipit è di quelli che rimangono impressi nella mente. La natura è amata amante sfaccettata con la sua fragilità, la bellezza, la potenza, la molteplicità degli elementi.
La mostra si schiude in uno spazio di ascolto, un universo bucolico e un mondo dominato dalla natura. Alberi, paesaggi, piccole e grandi unità in una sequenza di straordinaria potenza evocativa che risuona nel nostro io più intimo.

Bianco e nero, tra le righe, tra una traccia e l'altra, in dualismo tra cultura e conoscenza. Luca Piovaccari con i grandi e nostalgici acetati di memoria presente e stratificata di pose impresse nella realtà; Giuseppe Ripa di leggiadria e impalpabilità, di movimento e di rumore, piccola materia che va in senso ordinato e contrario; Serse, la storia e le radici, potente nei suoi paesaggi in grafite su carta degli anni '90; Giancarlo Dell'Antonia con immagini acute ridondanti come percussioni durante un temporale e Sebastiano Guerrera con armonia delicata in una sinfonia di foglie vibranti e alberi gentili, e Edoardo Bernardi, l'outsider, una danza visiva dal segno vigoroso di un'intrigante intensità tra tratto e supporto.
La quiete serpeggia lieve per gli spazi della galleria, ma ruggisce profonda e greve proprio al centro della lunga parete, lasciando il respiro sospeso e cortocircuitando i sensi: le opere di Carlo Cane con un colpo di coda improvviso e travolgente, uno schiaffo carico di colore, descrivono una natura selvaggia e predatrice che assume il suo regale dominio senza esitazione.
A chiudere, il piccolo "giardino" di scatti di Paolo Romani, ospite del primo appuntamento, una visione minimalista nella quale composizione e sensazione stanno alla base del linguaggio comunicativo.
Talvolta è difficile distinguere ciò che è reale da ciò che è realistico. Quando un qualcosa cattura la nostra attenzione è perché, in un certo qual modo, risuona al nostro interno, amplificandone la frequenza. Un legame che travalica i confini di corpo e mente, tra uomo e natura una relazione profonda, simbiotica, ancestrale.

Il suono riverbera nelle cellule del nostro corpo, ci costruisce e ci attraversa, esiste e si muove. Siamo amanti della bellezza, della finezza, siamo attratti dalla forza, dal potere, dalla fragilità della natura in un rapporto che fortissimo nei tempi antichi, sempre più si sta perdendo nel nostro vivere quotidiano.
Il silenzio comincia quando ascoltiamo davvero. Pronti all'ascolto?!
(Testo di Gaia Conti)
#
Stagione espositiva 2023/2024 - Rassegna in 5 capitoli a cura di Italo Bergantini e Gianluca Marziani
SOLO GLI AMANTI SOPRAVVIVONO [ONLY LOVERS LEFT ALIVE]
La sapienza del tempo che plasma storie resistenti dentro spazi marsupiali.

La saggezza dello spazio che accoglie chi disciplina la forma del tempo elastico.
Solo i veri amanti sopravvivono nel ponte tra spazio e tempo: ed è così che fanno le migliori opere d'arte, filiazioni cellulari e spirituali di artisti che scivolano nel tubo cosmico del tempo circolare, tra sguardi che si rinnovano e giudizi che si confrontano nel multiverso delle arti visive, dentro lo specchio caleidoscopico dei nostri fantasmi condivisi. In perfetta empatia coi vampiri romantici del capolavoro di Jim Jarmusch, gli artisti del nostro progetto hanno sempre giocato col tempo nello spazio malleabile della galleria, dentro la biologia architettonica delle diverse sedi Romberg: ed eccoli, oggi come domani, incarnare la sequenzialità dei passaggi personali che diventano maturazione costante dietro ogni singolo progetto.
Una stagione che accoglie in casa anime straordinarie e non conformi, lungo linee iconografiche che confermano i codici curatoriali di Italo Bergantini e Gianluca Marziani. Un gruppo di stelle solitarie, ognuna con la propria forma e luce, ognuna con la propria direzione narrativa, ognuna nel ciclo sistemico di una virtù privata che diviene tema universale.
Gli amanti che sopravvivono non bevono sangue ma spazio e tempo. A differenza della coppia nel film, gli artisti prescelti si cibano di durata e relazioni, estasi e connessione, veggenza e sintesi… così facendo lasciano che ogni creazione sopravviva oltre lo spazio e il tempo, trasformando l'oggetto del loro amore - l'opera - in un soggetto che trasmette amore a chi sa guardare "oltre".
(Testo di Gianluca Marziani)