VINCENZO PENNACCHI / MIGRATIONS
curated by Italo Bergantini and Gaia Conti
February / March 2017

ROOMBERG ROMBERG'S Project Space - Latina (Italy)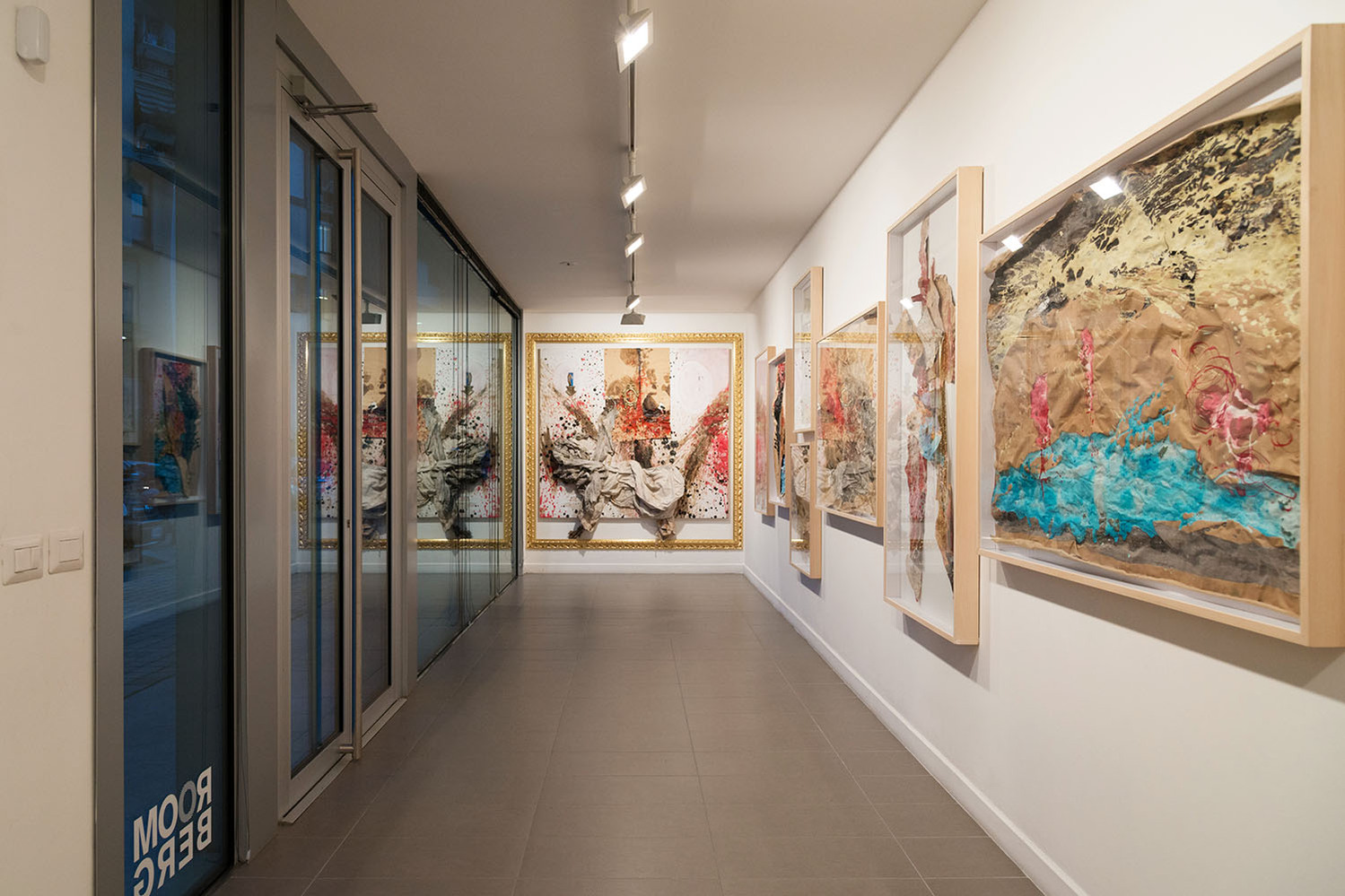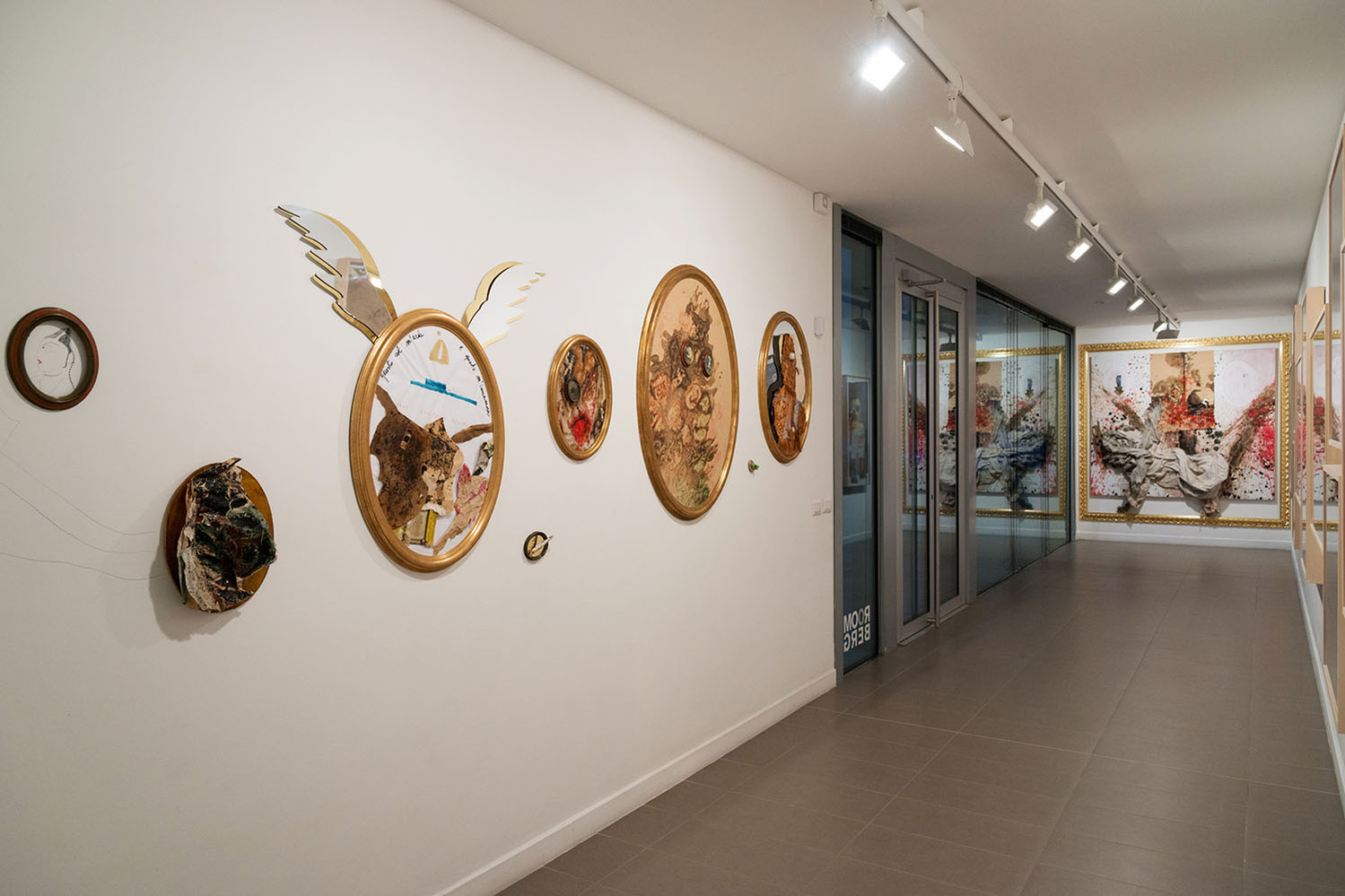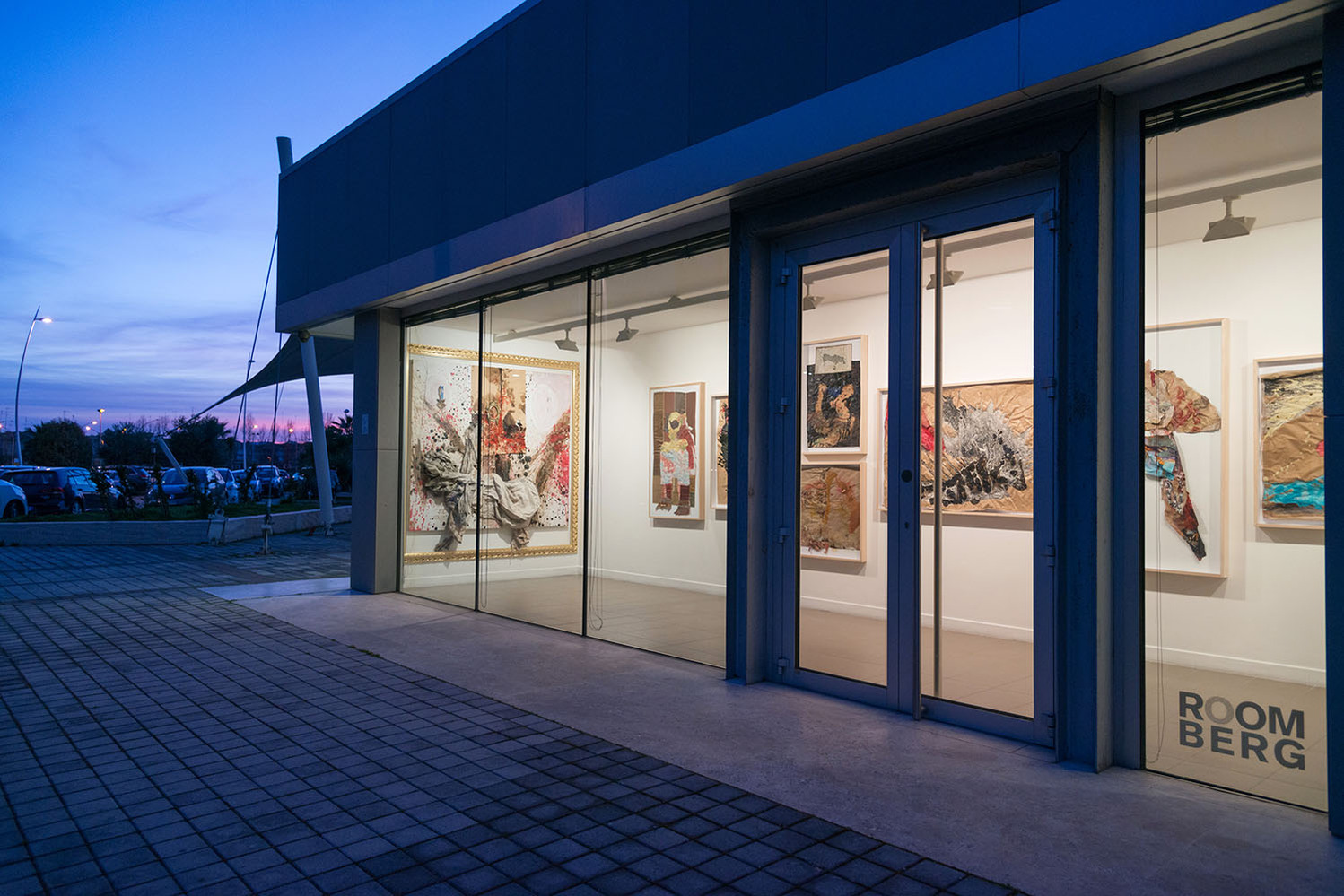 EN_
"Descend, bold traveller, into the crater of the jokul of Snæffels,
which the shadow of Scartaris touches before the kalends of July,
and you will attain the center of the earth;
which I have done, Arne Saknussemm"
(Jules Verne, Journey to the Center of the Earth, cryptogram's translation)
It is hard for something to happen by chance. Take a look at Vincenzo Pennacchi's solo show at Romberg in Latina to realize that. The walls of the gallery collect the summary of many years of works in which flesh, spirit, humor, color, passion and matters have been alternated to create a unique artistic path in its kind. Grown-works are happily married with unborn creations to be realized ad hoc in a setting that favors chaos without helpless confusion. "Migrations" is a visual anthology narrating tiny and great movements and a never-ending stream of thoughts.

Ironic, yet capable to go deep into the human spirit, Pennacchi seems to know how to hit the mark with his wanderings, which are physically divided into four seeming moments. On the left, in all its majesty appears the work that most of all encloses every aspect of his pictorial and installative manifestation. It is an animal body, a three-dimensional tragic proud beast, packed with flesh ripped by the fabric of times. Phreatic, such as a groundwater layer that crosses the earth's surface. Helpless, as a creature sentenced to slaughter. She migrates. She moves. Haughty. And he migrates, the wayfarer, the artist, always traveling with its own universe.
The first contact occurs with a constellation of small-framed worlds. Also this is Vincenzo – such a great teller of myths, legends, the Argonauts, adventures and tales that often have neither head nor tail. "Once upon a time…": this is the opening of many fairy tales. However. Maybe this is not, there was no "upon a time", there has never been and there will not be. Colors of a lived reality in a surreal destination diluted themselves, materic and slight and heavy as our experiences. Derangement is the dizziness, the challenge.
Again, he never stops because he can not, the path is his drug. He takes the road of the unknown universe toward the bright wise stars.
Then, it's time to take a deep dive into the wall on the right, and fly high away in the spirit among celestial and heavenly bodies. "The' immortal form did like an angel come in such holiness [..] 'T is this alone inflames, enamours me [..] awakens love, it places all its hope where virtue dwells" – this quote by the Italian sculptor Michelangelo Buonarroti is written in black on the white wall; these words take him back to a safe place where he can rest, his beloved domus as a sailing ship, his recurrent "obsession". The movement is a layered fool twist, like memories often are: pale spots of a lively truth. And here we are yet, at the fourth toll, when images of haunted paths are chasing each other on the screen. Migrating is still an act of bravery – you go, you might come back, but who knows what's next; migrating is like reconsidering the meaning of things, it is a contemporary and modern act, a human value and an animal instinct.
The wayfarer has emptied a suitcase full of his possessions, an art able to speak about herself and others without many technicalities, an art able to intrigue, to excite and to make people think. It's a primitive and a contemporary art, an art that belong to ours and other worlds yet to be discovered. A magical and mysterious narrative, to be listened to and observed without bias in the gallery space. We all have heart, legs and head and if you find yourself nearby, intrigued, then pass by, by chance. (Text by Gaia Conti)
IT_
"Nel cratere Yökull dello Snæffels
che l'ombra dello Scartaris tocca alle calende di luglio,
scendi, coraggioso viaggiatore, e raggiungerai il centro della terra.
Ciò che feci. Arne Saknussem"
(Jules Verne, Viaggio al centro della terra, traduzione del crittogramma)
Per caso è difficile che qualcosa si realizzi. Un'occhiata alla personale di Vincenzo Pennacchi alla Romberg di Latina per rendersene conto. Le pareti della galleria raccolgono la summa di molti anni di lavoro in cui carne, spirito, ironia, colore, passione, materia si sono avvicendati a creare un percorso artistico unico nel suo genere. Opere già adulte si sposano felicemente con nasciture creazioni realizzate ad hoc in un allestimento che predilige il caos senza essere inerme confusione. "Migrations" è un'antologia visiva che racconta di piccoli e grandi spostamenti e di un flusso inesausto di pensieri.

Ironico, ma capace di permeare nel profondo lo spirito umano, Pennacchi coglie nel segno con questi suoi vagabondaggi suddivisi fisicamente in quattro momenti apparenti. Alla sinistra compare in tutta la sua imponenza l'opera che più di tutte racchiude ogni aspetto della sua espressione pittorica e installativa. Tridimensionalmente drammatica è un corpo animale, una bestia fiera, intrisa della carne lacerata dal tessuto dei tempi. Freatica, come una falda di acqua sotterranea che attraversa la superficie terrestre. Inerme, come creatura condannata al macello. Migra, lei. Si sposta. Altèra. Migra lui, il viandante, l'artista in viaggio costante con il suo universo.
L'impatto centrale è con una costellazione di piccoli mondi incorniciati. Vincenzo è anche questo, un gran narratore di miti e leggende, di argonauti, avventure, di favole che spesso non hanno né capo né coda. "C'era una volta.." si legge all'avvio delle fiabe. Forse no, non c'era, una volta, non c'è mai stata e non ci sarà. Colori di una realtà vissuta in una surreale destinazione si diluiscono, materici e lievi e pesanti come le nostre esperienze. La vertigine è lo stordimento, la sfida.
Riparte, mai si ferma perché non può, il percorso è la sua droga. Imbocca la strada dell'universo sconosciuto, verso le stelle luminose consigliere.
E un tuffo immersivo nella parete alla destra dove s'invola in alto nello spirito tra corpi celesti e celestiali. "Immortal forma venne angel di pietà [..] sol questo m'arde e questo m'innamora [..] c'amor in cui virtù (dimora)" - vergate in nero sul bianco del muro, parole dello scultore Michelangelo Buonarroti lo riportano a trovar un posto sicuro dove sostare, l'amata domus che come nave veleggiante è feticcio ricorrente. Il movimento è un guizzo di follia stratificato, come sono molto spesso i ricordi: pallide chiazze di vivida verità. E siamo già qui, al quarto rintocco, quando sullo schermo si rincorrono immagini di sentieri battuti. Migrare è pur sempre un atto di coraggio, è andare, tornare chissà, è ripensare il significato delle cose. È un atto contemporaneo e attuale, un valore umano e un istinto animale.
Il viandante ha svuotato una valigia piena di ciò che possiede - un'arte in grado di raccontare di sé stessa e degli altri senza troppi tecnicismi, di incuriosire, emozionare, di far riflettere, un'arte primitiva e contemporanea, un'arte di questo e di altri mondi ancora da scoprire. Un racconto magico e misterioso, da ascoltare e osservare senza preconcetti nello spazio della galleria. Tutti abbiamo cuore, gambe e testa, e se, incuriositi, vi trovate nelle vicinanze, passate di qui, per caso. (Testo di Gaia Conti)